Life Lines
We use Hayn lifeline fittings exclusively.
Recent offshore racing rule changes governing material choices will result in safer, longer lasting, lifelines. The most important feature of the new rules specify the use of UNCOATED Type 316 stainless steel wire in 1X19 construction. This wire type is the same as conventional standing rigging wire and Type 316 is the most corrosion resistant alloy used in its construction.
This year many events are grand fathering old coated lifelines for a certain period. Those choosing to do major offshore events this year would be well advised to check the rules as soon as possible to make sure the boat is in compliance.
For cruising boats we still offer the more traditional coated life line wire. When using coated wire we will leave about 1/2" of bare wire at the swage fittings. We encourage frequent inspection and replacement. Note the photos below, left, of wire that failed under load resulting in a man over board. In this case the cover was butted up to the swage fitting, more or less hiding the corrosion. Note the tell tale rust on the vinyl. It's hard to see but if you look very carefully there are three shiny broken ends. These were the last strands to break. Also visible is a crack in the swage fitting. The righthand photo shows a shroud attatchment U bolt from a Cherubini ketch. It shows the effects of crevice corrosion. The problem was discovered when the bolts were being removed to perform other work. The boat was only about ten years old and several other U bolts were in the same condition.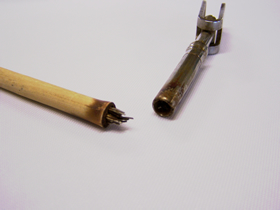 Rigging
Hayn, Navtec/Norseman/Gibb, and C.Sherman Johnson supply components for standing rigging assemblies. We have a capability of swaging wire to 3/8" and Nico pressing wire to 1/4". By using mechanical fittings like Stalock, Norseman, and Hi-Mod (from Hayn) we can handle much larger wire diameters.
Hands down our favorite furlers come from Harken. For '07 they have completely redesigned their racing and cruising furlers to be easier to assemble and cost less. There's a style and price range to suit any boat from day sailors to maxis. Harken is our preferred supplier of deck hardware as well but there are also items from Lewmar, like their Synchro Block line that we like too. Schaefer has engineered the only in the boom mainsail furler that works as well as advertised and their stainless blocks are beautiful.
New England Ropes provide us with consistent high quality and a range of products to take care of our cruising and racing customers. Marlow supplies some of the higher end racing products. We can splice anything and custom taper sheets and halyards.